Italian Bicycles Since 1957…
Perhaps no other company epitomizes Italian bicycles like Tommasini. Tommasini is truly made in Italy with 100% of production coming from the small shop in Grosseto, Italy. Here in 1957, Irio Tommasini began his commercial endeavor building exquisite steel road bikes known for exceptional quality, performance and beautiful paint and finish. Today, Tommasini Bicycles still produces artisan quality steel road bikes but has expanded to high tech materials like carbon, titanium, aluminum and state of the art stainless steel using Columbus XCR tubing.
All Tommasini frames can be built custom made to measure.  For the ultimate in comfort and performance made to measure frames are especially important for cyclists with out of ordinary body measures.  We find that 90% of people can ride a stock geometry frame especially since Tommasini offers many stock sizes.  Our dealers are selected for their expertise in bike fitting and a good place to start is completing the following anthropomorphic measures.  This diagram is a guideline to get Tommasini started with a frame design.  Please feel free to contact our office with any questions concerning your custom Tommasini.  Contact by phone at 717 560 2832 or by e-mail greg@redroseimports.com
Tommasini Cento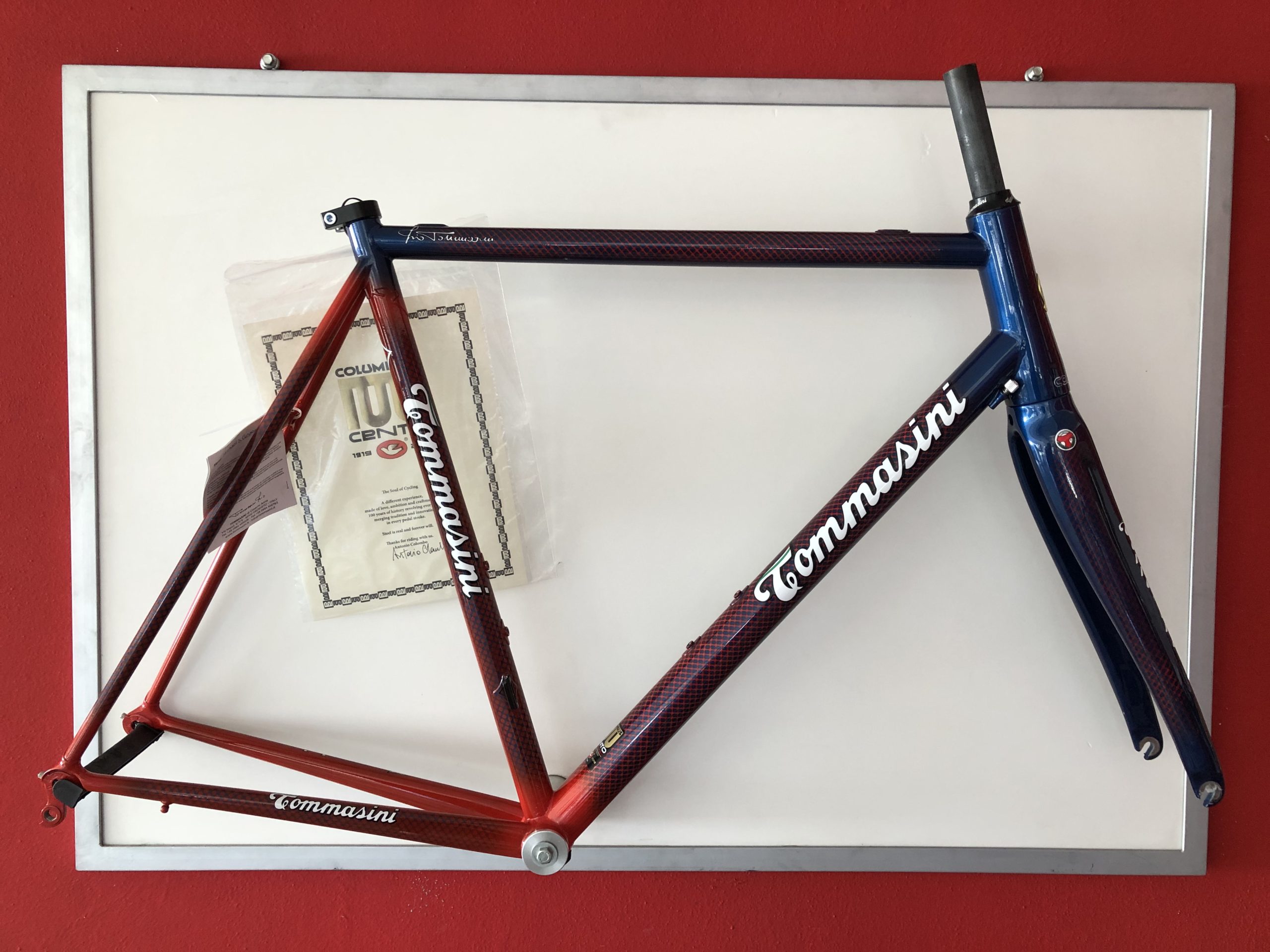 In collaboration with Columbus Tubing, Tommasini is building a limited number of Cento frames. New tubing called Omnicron Steel celebrates 100 years of manufacturing bicycle tube sets by Columbus. The frame is carefully tig welded and features a reinforced seat lug and oversized down tube. Internal routing and tapered head tube to fit Columbus carbon fork 1 1/8 x 1 1/2. Custom geometry and colors are available at no extra charge. Frameset includes certificate from Columbus.
Frameset price $3495
Featured Tommasini Frames
Tommasini Sintesi Pista
Built with Miche Advanced Pista group, Miche Express wheels, Chris Kin headset, Tommasini saddle, Miche Supertype seatpost, Continental GP 4000 tires and TRP brakes. Vintage paint scheme in Ferrari Red.
Welcome to tommasinibicycle.com brought to you by Red Rose Imports.  Since 1994 Red Rose Imports has distributed the finest Italian bicycle products in the North American markets and we are proud to offer Tommasini bicycles to discerning cycling enthusiasts.  We hope to make it easy for our dealers and consumers to purchase the finest custom road bikes from the Tommasini workshop.  With a simple phone call or e-mail you are on the way to a new cycling adventure.
Red Rose Imports
717 560 2832
greg@redroseimports.com
With personalized attention and hands on approach Tommasini Bicycles offers full custom geometry and custom paint at no extra charge. Custom bikes, made in Italy in a small shop makes Tommasini a unique company in this world of disposable mass produced bicycle frames. Ask yourself; where did my bicycle frame come from? Did it come from a huge factory in a polluted Chinese city and by workers toiling for long hours at minimal pay? Or did your frame come from a small artisan shop where highly skilled craftsmen built your bicycle frame with care? You are welcome to visit the Tommasini shop in Grosseto and see for yourself custom and personalized bicycles truly made in Italy.
Tommasini Fitting System